Coal ash is a mix of many chemicals and heavy metals that pose a threat to human health and the environment, such as arsenic, lead, mercury, chromium, selenium, antimony, and molybdenum. Coal ash can especially have negative health impacts when the ash is not properly managed. This is true whether the ash is stored in wet "lagoons" or dry landfills, either one can be particularly hazardous if the impoundment is unlined, allowing contaminants to infiltrate the groundwater.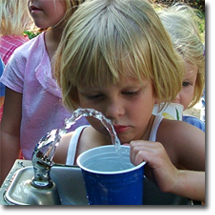 How Coal Ash Threatens Our Health
The EPA has found that living next to a coal ash disposal site can increase your risk of cancer or other diseases, especially if you live near an unlined wet impoundment that contains coal ash commingled with other wastes. According to the EPA's "Human and Ecological Risk Assessment for Coal Combustion Wastes" report, people in those circumstances have as much as a 1 in 50 chance of getting cancer from drinking water contaminated by arsenic, one of the most common and dangerous pollutants in coal ash.
Along with an increased risk of cancer from toxic heavy metal exposure, coal ash can affect human development, create lung and heart problems, cause stomach ailments, and contribute to premature mortality. A report from the U.S. Commission on Civil Rights found that EPA should categorize coal ash as a "special waste." The report urged EPA to assist communities in enforcing EPA's coal ash rule and conduct testing of drinking water wells in close proximity to coal ash pits. The report also found that "Racial minorities and low-income communities are disproportionately affected by the siting of waste disposal facilities and often lack political and financial clout to properly bargain with polluters when fighting a decision or seeking redress."
Over half of the coal plants in the country are in low-income communities, and almost half of the EPA "high hazard" ash ponds in the Southeast are located in low-income areas. The coal ash waste that devastated Roane County, TN after TVA's Kingston coal ash pond failure is now being shipped to Perry County, AL—a largely minority community where arsenic contamination has risen to levels 80 times the safe drinking water standards.
The working class community of Cane Creek, Kentucky knows all too well how difficult it is to protect themselves from coal ash. For years, they have been watching coal ash from a nearby LG&E coal ash landfill encroach on their neighborhood. Toxic coal ash dust blows into neighborhoods, covering cars and houses, and the mountain of ash has grown so large that it completely obscures views from Cane Run Road. Kathy Little and other nearby residents have been fighting the utility for years, as detailed in this article naming Kathy Louisvillian of the Year. Kathy Little has called on every agency she can and asked for regulations to protect the health of her family and community, you can do the same on our Take Action Page.
Health Effects of Coal Ash Pollutants
| Pollutants | Health Effects |
| --- | --- |
| Aluminum | Lung disease, developmental problems |
| Antimony | Eye irritation, heart damage, lung problems |
| Arsenic | Multiple types of cancer, darkening of skin, hand warts |
| Barium | Gastrointestinal problems, muscle weakness, heart problems |
| Beryllium | Lung cancer, pneumonia, respiratory problems |
| Boron | Reproductive problems, gastrointestinal illness |
| Cadmium | Lung disease, kidney disease, cancer |
| Chromium | Cancer, ulcers and other stomach problems |
| Chlorine | Respiratory distress |
| Cobalt | Lung/heart/liver/kidney problems, dermatitis |
| Lead | Decreases in IQ, nervous system, developmental and behavioral problems |
| Manganese | Nervous system, muscle problems, mental problems |
| Mercury | Cognitive deficits, developmental delays, behavioral problems |
| Molybdenum | Mineral imbalance, anemia, developmental problems |
| Nickel | Cancer, lung problems, allergic reactions |
| Selenium | Birth defects, nervous system/reproductive problems |
| Vanadium | Birth Defects, lung/throat/eye problems |
| Zinc | Gastrointestinal effects, reproductive problems |
Create-Your-Own Coal Ash Report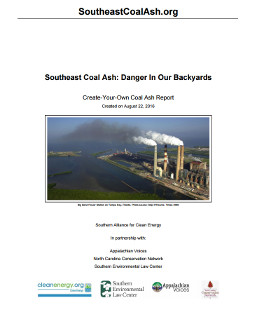 Full control to create the report of your choosing listing coal plants with ash impoundments in the Southeast.
Create your report NOW!
180 Seconds of Coal Ash Problems
So Many Ways To Say "Coal Ash"
There are a lot of words used to describe both coal ash waste and the ways in which it is stored. Coal ash is also called "coal combustion waste" (CCW) and "coal combustion residuals" (CCR). Wet coal ash impoundments are frequently known as "ponds," "lagoons," or "surface impoundments."