More Details on Coal Ash
Since the 2008 Kingston disaster, when the dangers of coal ash became more widely known, a great deal of data has become available, new research has been conducted and new advocates have begun pushing for reform.
Follow these links to dive deeper into the details:
Create-Your-Own Coal Ash Report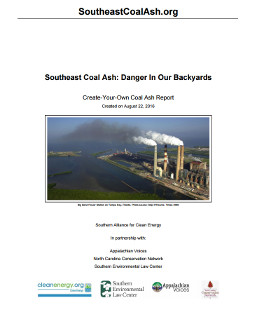 Full control to create the report of your choosing listing coal plants with ash impoundments in the Southeast.
Create your report NOW!
180 Seconds of Coal Ash Problems
So Many Ways To Say "Coal Ash"
There are a lot of words used to describe both coal ash waste and the ways in which it is stored. Coal ash is also called "coal combustion waste" (CCW) and "coal combustion residuals" (CCR). Wet coal ash impoundments are frequently known as "ponds," "lagoons," or "surface impoundments."