For general inquiries about this site:
Amelia@CleanEnergy.org
To report a coal ash spill, especially storm-related:
Donna Lisenby dlisenby@waterkeeper.org, 704-277-6055, Waterkeeper Alliance
Matthew Starr, upperneuserk@soundrivers.org or (919) 961-2240, Neuse Riverkeeper
Create-Your-Own Coal Ash Report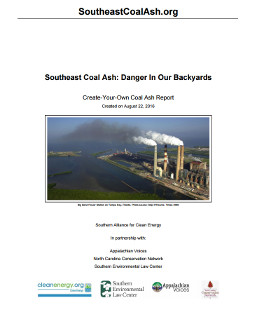 Full control to create the report of your choosing listing coal plants with ash impoundments in the Southeast.
Create your report NOW!
180 Seconds of Coal Ash Problems
So Many Ways To Say "Coal Ash"
There are a lot of words used to describe both coal ash waste and the ways in which it is stored. Coal ash is also called "coal combustion waste" (CCW) and "coal combustion residuals" (CCR). Wet coal ash impoundments are frequently known as "ponds," "lagoons," or "surface impoundments."