Sign the Petition: Tell Congress not to undermine EPA's coal ash rule!
EPA finally released its coal ash rule, which sets minimum federal requirements for the disposal and storage of toxic coal ash, nearly six years after the Kingston Disaster and 10 months after the tragic Dan River spill.
Now, some Senators are moving a bill that would undermine the rule. This bill — S. 2446 — threatens our health, our safety, and our environment while removing or delaying critical requirements for owners of coal-fired power plants to safely handle, store, and dispose of toxic coal ash. Senators may also try to pass the same content in the form of an amendment to a larger bill. Don't let the Senate protect the polluters instead of public health! Sign the petition!
Create-Your-Own Coal Ash Report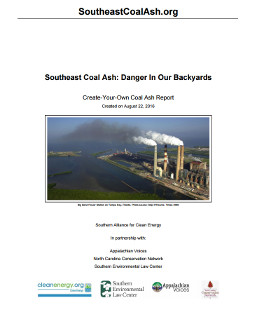 Full control to create the report of your choosing listing coal plants with ash impoundments in the Southeast.
Create your report NOW!
180 Seconds of Coal Ash Problems
So Many Ways To Say "Coal Ash"
There are a lot of words used to describe both coal ash waste and the ways in which it is stored. Coal ash is also called "coal combustion waste" (CCW) and "coal combustion residuals" (CCR). Wet coal ash impoundments are frequently known as "ponds," "lagoons," or "surface impoundments."